We all have our dreams. Some people wish for fame and fortune, others simply dream of a simple, stress-free existence on desert islands. Myself, I've always toyed with the idea of constructing an enormous cave underneath my house where I can focus my crime-fighting on evil villians who...*sigh*. All that is well and good, but slightly boring. When it comes to your children, you might want them to do well in school, behave in church and generally have a successful, happy life. Right?
Wrong. Fucking way wrong.
Don't be a square, parents. You need to add a bit of risk into your life. If you want to shake up your stagnant days and inject of bit of spice into your daily life, read on...
As a parent, you've got one main competitor when it comes to your child's attention - the media. Do you want to divert their attention and teach them literature, morals and ethics? Buy a ticket to Snoretown while you're at it. The media makes things much more exciting than you, so just give up now and take a page out of their book.
Here now are some simple steps on how to change your boring, well-to-do bundle of joy into a kick-arse, hardcore excitement machine. Using the media as our tour guide...
- Judas Priest - Stained Glass
With speed metal band Judas Priest on your kid's side, it's always a party in your house. Wait around for a upcoming birthday party and invite all your child's pals around for a session from the classic UK group. Lead singer Rob Halford put the words DO IT subliminally into their 1978 record. Did you get that? Yes, it was...DO IT. Do what? Put a hat on? Take out the bins? Shit your pants?
No, you fool! Does the word 'shotgun' mean anything to you? Well, it will when you put one in front of all these kids for a spin-the-bottle type party. Then sit back and watch the fireworks. Well that, and the horribly disfigured Joseph Merrick-type kids that will be exiting your house at the end of the afternoon.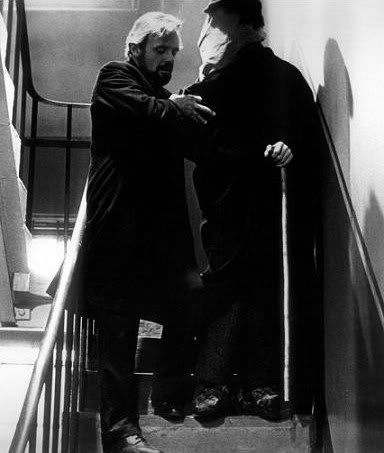 Above: Your child's mate (with Anthony Hopkins)
RESULT: YOUR CHILD BECOMES A MURDERER.
- Marilyn Manson - Any album
Now we're talking. Look how fucking weird he is. He's wearing fingernail polish!
Have your kid wait outside their room while you cover all their windows in black garbage bags and put Mr Manson's albums on repeat. Then shove them in there, lock the door from the ouside and go make some popcorn. Go watch TV, maybe take in an episode of Two And A Half Men. Ignore any pleas of 'Hey Dad, I'm bored in here!' you may hear from your child, it's just a warming up period. Regardless of how many Abercrombie & Fitch garments your child was wearing, those bland shits will be transformed into something black, tight & chainy.
That's right, parents! It doesn't take much, just a few rotations of a collection of strung-together noises and you child will be way more interesting to talk to at parties. Evil Satan-worshipping parties.
RESULT: YOUR CHILD BECOMES AN ANTI-SOCIAL HOMOSEXUAL WITH SUICIDAL TENDENCIES.
- First person shooter video games
Bored with your child's lack of rifle-handling skills? You bet you are. It's embarrassing to take your kid to the local shooting range only to have Jeff from next door laugh in your face as your little one scores more groin-shots than head-shots. So let's put a stop to that shit. Plonk them down in front of a few of these bad boys and before you know it, they'll be able to shoot the wings off a butterfly.
Yeah, you'll show that Jeff prick. Who the hell does he think he is? With his boring straight-A kids and huge house and two cars. Check this out, Jeff. My kid can quick-reload an AK-47 in 1.3 seconds! Yeah, that's what you'll say. Because he better watch out, now that your kid has discovered that little thing called bloodlust.
A
bove: Your child's bedroom wall. Fuck yes.
RESULT: YOUR CHILD BECOMES A KILL-CRAZY GUN NUT WITH REAL-LIFE EXPERT WEAPON TRAINING SECOND ONLY TO ELITE NAVY SEALS.
With these simple steps, your child will instantly become more fun to be around. Like so:
You child before:
Your child after:
IN A WORD, AWESOME. GET READY FOR EXCITEMENT, PARENTS! DON'T THANK ME, THANK THE MEDIA!